As architects in Cornwall, we're passionate about the homes that we transform amongst our rural community. Our designs are constantly pushing the boundaries of modern architecture and we love when a project gives us the chance to showcase our creativity.
We recently completed a contemporary renovation and extension of Nick and Pauline Clarke's Falmouth seaview property that allowed us to do just that. The dramatic 1930's house renovation featured in last month's Build It, the UK's first self-build & renovation advice magazine, as a stand-out feature.
As one of our favourite projects, this contemporary coastal renovation is one that's close to our hearts. See our musings on the project below and read the case study in full, here.
Remodelling a Falmouth property with gorgeous sea views
The Clarke's renovation was an interesting project - one that started off as a modest renovation and grew into a bigger scope as we unlocked the possibilities of their space. Our brief was to update every corner of the property, and bring all aspects up to a high standard.
Over several months we worked with the Clarkes to develop a proposal that would achieve their desire for a modern, sun-soaked home. We embraced the unique challenges of the project, like the dwellings position within a conversation area which brought an added layer of complexity, and the relocation of the house's entrance which would require a room to be removed from the upstairs to create a spacious double-height entrance area.
To ensure the house retained local Cornish influences, we designed the exterior with a fresh white render finish, timber-effect cladding and a new slate roof that was in keeping with other properties on the coveted stretch of coast.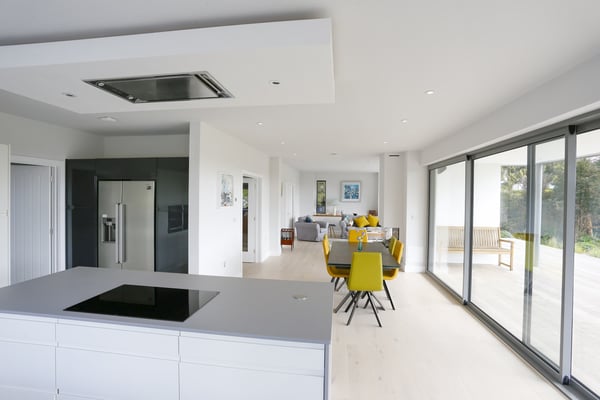 Using VR to visualise the transformation
At Marraum, every one of our projects is brought to life with immersive VR technology. We do this because we believe in the power of being transported into the heart of your design. By putting on our VR headset, the Clarkes could step into their space, walk through the doors of their renovation and peer out over views of their new home. Using the exact scale and perspective of their project, rendered into a realistic landscape, we were able to seamlessly create multiple proposals for their remodelling - allowing Pauline and Nick to get a feel for each and choose their final design with complete confidence.
See more of the projects we've brought to life
The Clarke's coastal renovation is part of a portfolio of beautiful projects, all inspired by the unique characteristics of our clients. Each of our designs has one thing in common - they all start with you. See some of the projects we've brought to life and find out how we could help you make more of your space, here.