Picking the right architect for your project is an important undertaking. After all, you want to know your investment will be well-placed and that the final design meets your needs and ambitions for your space.
While many professional architects out there are excellent designers and planners, not all may be suited to delivering what's best for your personal requirements, so it's important to choose an architect who is able to fit in with your project and circumstances.
If you find yourself wondering how to choose an architect, here are some aspects to keep in mind:
Choose an architect you get on with
Given that your experience with your architect will involve time and money, it's vital that you see eye-to-eye on certain details. The best architect for you is one that will seek to understand your vision and one whose process is made clear to you from day one.
After finding an architect (or several) that you're thinking of choosing, don't settle for anything less than one willing to work alongside you in crafting your design. Clarity between both parties is essential.
Find out more about getting the most from your architect in our blog.
Do they embrace a modern design process?
The process behind architecture is constantly evolving. The latest evolution of architectural design involves plans that are rendered in 3D, giving clients a more detailed and easy to digest format to understand what their finished project will look like.
Seeing your design in 3D can make giving feedback to your architect easier, resulting in designs that more accurately express your vision.
At Marraum, we take it a step further with Virtual Reality. After rendering designs in 3D, our clients can walk around them in VR, enabling them to see the future space in its fullness before it's even built. Virtual reality has transformed our architecture at Marraum, revolutionising the way we design buildings, giving our clients an unrivalled level of detail in the design phase and allowing us to mitigate unforeseen hiccups that may otherwise become costly further down the line.
Find out all about VR at Marraum for more information.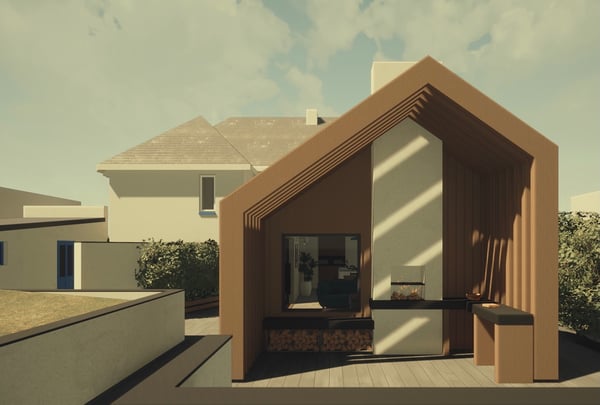 What services should you look for in an architect?
The type of service you're hoping to get from your architect will also play a role in choosing the right practice to partner with. Designing your space is only one piece of the puzzle; there's also the planning and construction phases to consider, both of which the right architect may be able to make recommendations on based on your needs.
Once you've come up with a shortlist of possible practices you'd like to work with, do some research on their architectural process to understand what's involved at each phase. At this stage, you may choose to get in touch with them directly to discuss how they can apply their expertise to your project.
Find an architect near you
It may be tempting to enlist an architect outside of your county based on their reputation alone, but if you want to go the distance with your architect and enjoy as smooth a planning process as possible, consider the architects available to you in the same county as your prospective building site.
Architects in the right area will better understand the history and heritage surrounding your site, and in some cases be able to recommend materials that are better suited to the environment, enabling them to sensitively and sustainably bring your project to life.
They should also have more experience working with the local planning authorities, giving you indispensable insight into what will and won't work in your case. This can in turn help you turn building restrictions into opportunities.
Trying to choose an architect in Cornwall?
If you're in the process of choosing an architect and are based in Cornwall, we'd love to hear from you. Get in touch to arrange a consultation with us and begin bringing your story of space to life.
You can also meet our team to find out about the experienced specialists that together form our talented collective.