It's hard to believe another year has passed – the months have flown by since our last yearly wrap-up!
Now that we're back in the swing of things post-pandemic, the team has settled into a steady rhythm. It's been a great year full of progress for Marraum as a practice, as well as personal growth within our team.
That spirit of collaboration we felt going into 2022 has carried us throughout, giving us some exciting successes ahead of another new year.
We've brought more beautiful projects to life
Despite the occasional uncertainty that 2022 brought with it, we've met some lovely clients and worked with them on some fantastic projects. From bespoke wedding venues to homes that harness space to bring together all the family. These projects really are the reason why we do what we do and we'd like to say a huge thank you to all our clients.
Following on from our feature in Dezeen in 2021, we've seen further recognition from other industry leaders for our use of virtual reality – from trialing a new VR headset and working with Twinmotion, to being featured in the RIBA's recent Guerilla Tactics talk and other printed publications.
All in all, we can close the year with a sense of achievement and excitement for what's to come in 2023.
We tackled our carbon footprint
With things returning to some semblance of 'normal' in the office, this year gave us the opportunity to assess our impact on the environment in greater detail. We partnered with Tevi and the University of Exeter to produce an in-depth carbon report for Marraum.
The results were eye-opening and encouraging; we learned our carbon footprint is pretty minimal for a business of our size. Read more information from the carbon report in our blog.
We didn't stop there, though; we've partnered with Ecologi to fund carbon positive projects and tree planting around the globe. We're looking forward to continuing our sustainability efforts in the new year, with a greater focus on bringing our clients and associates into the mix.
We continued our partnership with Cornwall Wildlife Trust
After partnering with Cornwall Wildlife Trust on their Seaquest Southwest project in 2021, we continued our collaboration into this year as well.
In addition to giving a percentage of our turnover to this fantastic initiative, we got to enjoy some great team days – most notably a snorkelling trip in July, which the CWT team kindly facilitated.
We're proud of this partnership with CWT – sustainability is at the heart of our architectural philosophy, so it's fantastic to be able to support and get involved with local charity.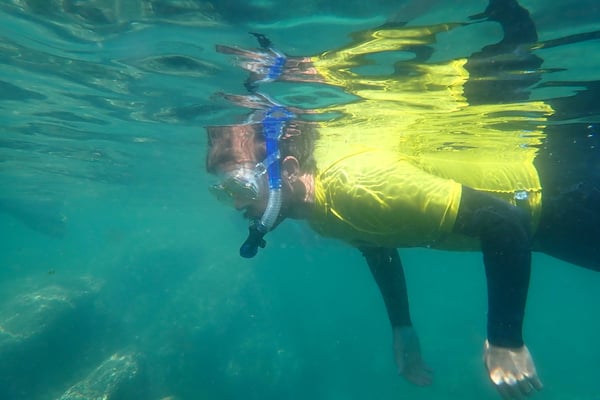 Our team has continued to grow
The Marraum team has evolved further in 2022 – we recently welcomed Matt to the team, who joins us as an Architectural Technician.
Our Senior Technologist, Nick, took semi-retirement earlier in the year and has been enjoying more time with his grandchildren.
Oli, Marraum's Technical Manager, is moving on to pursue his dream of travelling across Europe and beyond. We're excited to hear about his journey – he's been a pivotal member of the team for the last 5 and a half years and has contributed to moving our technical output forward.
Sam, another of our Architectural Technicians, will be taking over the reigns from Oli regarding our technical output, BIM and health and safety.
Molly, one of our Architects, is currently controlling some of our biggest projects on site from a full house renovation in Crackington Haven to a Boathouse on the Helford.
Amelia has begun working on her MA in Architecture at the Centre of Alternative Technology (CAT) in Wales. It's been great to see her knowledge and experience grow as she takes part in her studies, and we look forward to watching her journey unfold as she continues part-time with us.
Amelia's not the only one who's been learning at CAT; earlier in the year, Adam and Jonathan attended an Eco Refurb course there. They left feeling thoroughly inspired by the people and space, and have already begun incorporating insights from the course into Marraum's architectural offering.
The new year will see another new face join the team - Charlotte will be joining us as a Part III Architectural Assistant. Charlotte has been running her own projects in Cambridgeshire for a number of years but is making the move down to Cornwall with her family.
Last but not least, big congratulations to Peta who is expecting her second child in April! She'll be wrapping things up here before stepping away for maternity leave.
Stay tuned for more to come in 2023
We're looking forward to the possibilities the new year will bring, as we focus on becoming an even more sustainable business and working together on a host of exciting projects.
Stay up to date on the projects we're working on and keep an eye on our blog for further insights in the new year.
Daisy Sawle
Start your adventure with a different kind of architect practice in Cornwall. View blogs by our Director Daisy Sawle and get inspired today.