We're feeling quite in demand at the moment as we've been asked to design and build several new dwellings in central Cornwall. One topic that keeps cropping up though is the use of 'Structural Insulated Panels' (SIPs) and how they are used to construct factory-built homes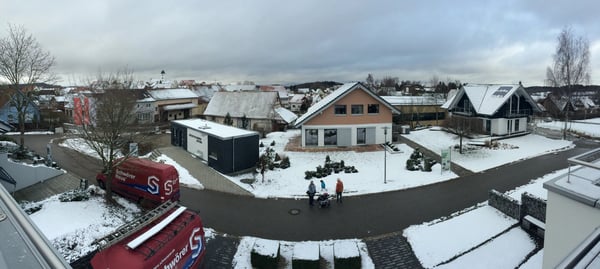 We started researching and came across SchwörerHaus, a German company that specialises in offering prefabricated turnkey solutions at a fixed price. Not to be confused with post-1945 prefab homes, the houses that SchwörerHaus builds are designed to last; the company's own stipulations relating to vital factors like air tightness and insulation values exceed even those considered the bare minimum in the UK.
We decided to investigate further with a visit to SchwörerHaus's HQ in Hohenstein-Oberstetten, near Stuttgart. It took us a whole day to get there and by the time we arrived in town, it was cold and dark. And snowing. We warmed ourselves up with some fine German beers before retiring early. We had a big day ahead of us.
It was just getting light as we set off the next morning. There'd been more snow, which was good news for skiers in the nearby Alps, but not so good for slightly bleary-eyed Cornish architects! Still, we managed to get there in good time to spend a whole day at the SchwörerHaus factory.
We started at the vast timber yard where there is a delivery of new timber every 30 minutes all year round. All the timber is sourced from within a 60 km radius from the factory, maintaining a low carbon footprint, with the yard being fully replenished every six weeks. That's a lot of timber.
All of this timber is then stored, treated and cut to size on site with 70% of it being sold on and the remaining 30% used in the factory. You'd expect some leftover matter from all of this production but none of the timber goes to waste. Instead, it's processed by huge BioMass boilers that produce more than enough electricity to power the factory.
The factory is huge, so big that staff use bicycles to move quickly from one end to the other. No such luck for us, although we did consider hopping onto one of the many conveyor belts that traversed the factory floor...
We couldn't help noticing the sturdy quality of the products being made, no more so than when we saw a wall panel being de-constructed. We were assured that this is something that doesn't happen very often but we could clearly see how much energy it takes to rip a panel apart. They were solid as a rock, safe as houses.
Once the factory tour was over we were ushered through to the product show room, although that description doesn't really do it justice.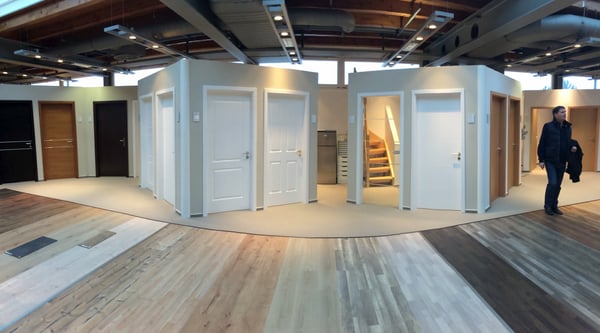 There were thousands of products all in a single place and everything you need to consider when building a new home. All different kinds of floor finishes extending out in front of you like Dorothy's yellow brick road. Window frames. Roof tiles. Types of balcony. Flicking through rails of doors like you would buy a poster from HMV. Dozens of staircases you can climb up and down until you find the right one. We could see everything was of the highest quality and it was great to be able to see and use the products before committing to them.
Although the show room included completed bathrooms, bedrooms, kitchens for you to step into, it was only when we were taken to a snowy crescent of show homes that we could see everything in context. The houses were slightly different in style and arrangement to how they would be if constructed in the UK, but once again, we could plainly see the outstanding quality and where standards exceeded the minimum set by UK building regulations.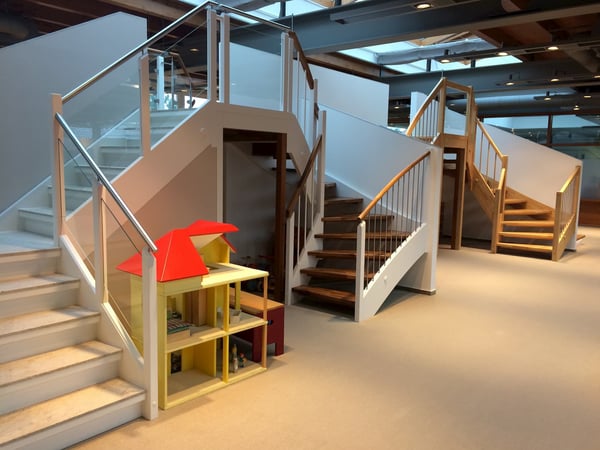 We returned to the hotel fully convinced of the possibilities offered by larger companies working in the prefabricated homes market. All in all, they work out slightly more expensive than standard UK homes but when specifying a home, like for like, they would be very competitive.
But prefabricated home manufacture is not the only business in Hohenstein-Oberstetten. Luckily for us, there's a brewery too so we were able to discuss our next educational trip over some more German beer. It might not be the best fit for Cornwall, but apparently bamboo prefabs are popular in Hawaii.
Worth a look, don't you think?
Get in touch to find out how Marraum can help with your building project.