Are you looking to relocate? Before you make the final decision to move, consider: is there more your space can do for you?
Many homeowners relocate because they're looking for more space or improved features within their building. But many don't realise that their current home could fulfil all of their wish-list with the help of a simple renovation. Sometimes you just need to approach the project with a creative mindset to see the full opportunities available to you.
Save money, time and the upheaval of your life by renovating your existing home. See some of the benefits, here:
Adding space to your home…
Extend your home and create entirely new spaces that improve your living experience. Create a home office, add a family room or fulfil a lifelong dream of adding a home movie theatre. There's no limit to your vision when adding an extension to your home.
…Or creating space from your current environment
Open up your existing rooms to create airier, lighter spaces that make your home feel new. Remove internal walls, raise ceilings, create open plan living areas and more – discovering new possibilities in a familiar space.
Working to a budget
With a renovation you have control over you budget, and can even break the project up into smaller chunks spread over a longer-time period to make the investment more manageable. There are a number of costs incurred when moving home, including: removal companies, involvement of solicitors, stamp duty, furniture storage, mortgage fees and more – all of which can be off-set against the costs of professional fees and construction work from a renovation. Remodelling your home will cost less than purchasing a new one, making it a good alternative for homeowners who want to work to an affordable budget.
If you're thinking ahead to financial security, renovating your property can also increase the value of your home, giving you a great return on investment down the line. Speak to your local estate agent to find out how much value transforming your home could add.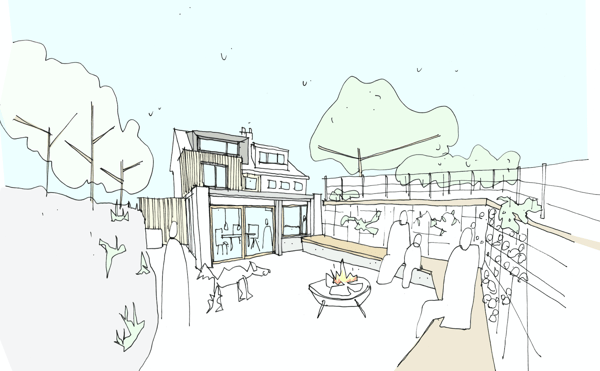 Understand your space
When working with a new home, it can sometimes take a while for issues to come to light. If you're renovating your current property you'll know the space inside-out, meaning you can easily understand what works and what doesn't.
See how we've transformed homes
From renovated townhouses to reimagined coastal cottages, our architectural team have transformed many homes, turning clients' lifelong ambitions into a reality. Find out more about our residential architectural projects and get inspiration for your home here today.
Create a blueprint to your project
Are you looking for help making the decision whether to move or renovate? Our team have introduced a new service called 'a blueprint to your project'. Enjoy a half-day consultancy with our specialists, who will visit your home, chat through your ideas, make some initial sketches and produce a report at the end. The blueprint is perfect for clients who are unsure what to do with their home – allowing individuals to explore the possibilities of their space without signing up for huge amounts of work. Speak to our team today to find out more.
Get started with our architectural services in Cornwall
Our flexible working style means that whatever your project, we're happy to help. We can transform your space and help you rediscover its potential. Meet our team, share your thoughts and discover the possibilities for your space today.