Grab a piece of paper and start off by establishing a brief and what you want from your project. How much do you want to spend? How many bedrooms? Bathrooms? Location? Outdoor space? How do you live in and use the space and how can it meet those needs?
This may all change when you delve deeper and start speaking to friends and family, but it's a solid starting point.
Next, start writing down the questions you need answering before you're confident to move forward.
What are the most important things to consider on my site?
Do I knock down, rebuild or renovate?
How long will my building project take to complete?
How much will the professional fees cost?
How much will the construction cost?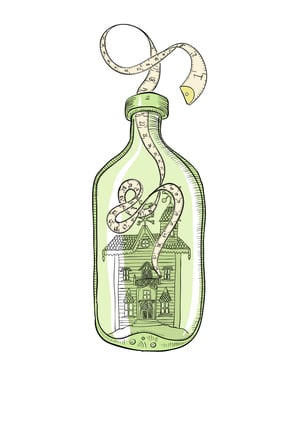 The process then often starts with choosing an architect or designer who can work with you on your project. Seek recommendations from friends or family members, or simply start by typing 'Architects in Cornwall' into Google (or asking Alexa!) It's important to spend some time looking into the type of practice you would like to work with. There are a variety of architects' practices working in slightly different ways but there will always be the right one out there for you. Do they specialise in renovations, extensions, new builds, commercial or listed buildings?
After creating a shortlist it's time to find out who you'd like to work with. Make those all-important phone calls and start lining up meetings to discuss your project. Chances are the people you'll be talking to will be able to answer most of your questions at this stage and give you focus in moving forward. Find out more about finding an architect.
During these conversations you can learn more about the stages a design project goes through; surveying, concept design, planning, technical design and on-site construction, as well as all the other topics that weave in and out of these stages.
If you've got an idea for a building project you'd like to explore with us, please get in touch - we're always happy to chat about your needs.