The feeling of being cramped and restricted in your house is one of the biggest factors in moving homes. Owners feel that they have outgrown the opportunities their property has, or that it can't fulfil the living requirements they need – starting a new family, working from home, taking up a new hobby.
But there are a number of ways to create more space without having to relocate. Just a few simple architectural choices, or opening up a new area within your property, can vastly improve the space available in your home. See some of our top ways, here:
Design architecture projects to add space in your home
1. Open up your home layout
Flowing, open plan living areas give the appearance of a spacious interior. Removing walls within your home and integrating your living areas into one wide room can create vast layouts that don't feel compromised on space.
2. Reconfigure the space
Are there any rooms in your home that are currently underused? Unlocking these areas can have a dramatic impact on how a space functions. Moving walls or relocating the stairs can allow you to 'rebuild' the internal space you desire, often with lesser costs than adding to the footprint and building an extension.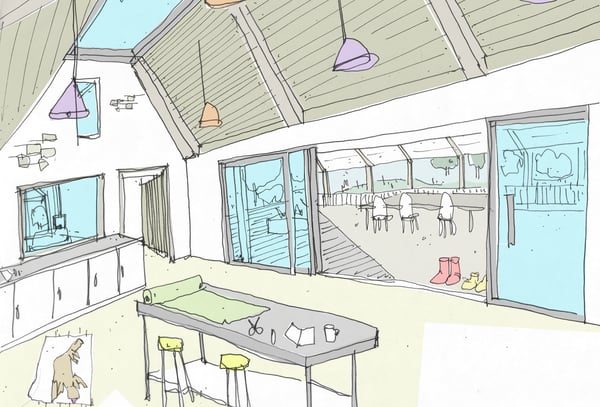 3. Maximise natural light
Lighting can transform the look, and feel, of a home. Make sure your architecture choices take advantage of natural lighting, using long open windows and positioning entry points where your building sees the most sun. You could also install bi-fold doors that easily allow you to let the outdoors in, creating one big space that integrates seamlessly with surrounding nature.
4. Create multi-functional spaces
If you want to increase the space in your home then why not create multi-functional spaces? Balance working and living with some clever interior design choices, like foldaway desks, hidden storage and a contemporary design that suits all living purposes.
5. Build an extension
If it really is a bigger footprint that you need then building an extension, or adding an annex, can create a whole new space filled with potential for your home. An annex is a separate area within your home, or located adjacent to your property that can be as small as one room, or have their own kitchen and bathroom to give you a living area away from the main hub of the house.
Transform your living space with our Cornwall architect today
At Marraum, we love helping you get the most from your space. We help you create a home that is so much more, and fulfils its potential. Chat to us about designing a space that suits your needs and get the most value from your property today.