Barn conversions can be beautiful and inspiring projects, filled with their own unique quirks and charms. Rustic buildings and antique design features gives your new conversion endless opportunities – but there are also a number of challenges to overcome. When renovating your barn, there are a number of considerations for your project: is your barn listed? Will you be retaining its original features? Does the building have the structural integrity to support your designs? Find out more about how to create the ultimate barn conversion, here:
Celebrate your space and make the most of natural features
Whether you want to keep all of the rustic design features of your property, or completely transform it with a contemporary conversion, it's important to celebrate the unique features that your barn has. Barns can be beautiful buildings, with striking timber structures, stunning brick and stonework and detailed fixtures that can date back hundreds of years. Make the most of your building's natural materials and showcase some of these features to create statement focal points in your new home.
Add in an upper level
Many barns come without an upper level, meaning that if you want to turn your space into a fully-functioning home, you'll most like need to install upper level flooring. Depending on the structure of your barn, this may mean additional support is needed, to ensure that your upper flooring can safely bear weight.
Work around restrictions
For all the opportunities that a barn space can bring, there are a number of restrictions. If you're converting an old building, it's important that you understand the limitations you may encounter. In England you may be able to make changes under permitted development rights but there are certain conditions and caveats to navigate. Electricity and heating may be more challenging to cover your property, and require professional help to install. Find out about your property's restrictions and get help from an architectural practice to create innovative solutions to each problem.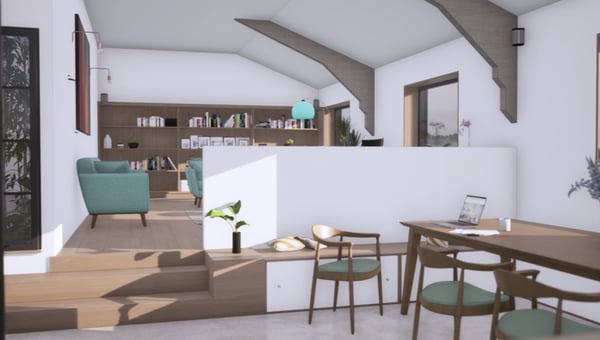 Light up your space
Typically barns will have limited lighting, and minimum openings to allow natural light in. This can make lighting your space particularly challenging. Rooflights are key to bringing light to large parts of your building, without having to interfere with your walls and glazed gables can also be an option. When designing, you'll need to factor in that area of the space may be darker and offset this with clever lighting solutions.
Extending your barn
If you're looking for more space, then you may want to extend your barn. Smaller additions are likely to be more acceptable to planners. Although you don't need to make the extension identical to the current features of the barn, you will need to consider if you want the extension to be in keeping, or something more striking that clearly defines old and new.
Get help from our Cornwall architect team today
If you're looking to transform your barn today, then get in touch with our team. We are passionate about helping people realise their dream property and, from paper through to construction, we can work with you to build a beautiful barn conversion. Find out more today.