Are you looking for inspiration for your new home or renovation project? Contemporary design influences can transform your space, and give it a much needed upgrade to work more efficiently for you.
From interior design features to building layout and architecture, contemporary styles can have a huge impact on the feel – and function – of your space. See some recommendations from the Marraum design team for four modern styles that can inspire your new home today:
1. Minimalist simplicity
Originating from the influence of Japanese design, minimalism is an effective interior stye that strips away all of the unnecessary clutter. Wide open light filled spaces, efficient design, multi-purpose furniture, hidden storage and an absence of architectural distractions are typical of this style, as is nature and the use of natural materials and colour palette.
2. Green spaces
With a shift towards sustainability, eco-friendly homes and green spaces are top of the wish-list for many homeowners. Using recycled materials, maximising natural lighting, thermal insulation, renewable energy sources, planting wildlife and more – green architecture is an effective way to design an eco-friendly building that will minimise its impact on the environment. Find out more about green and sustainable architecture, here.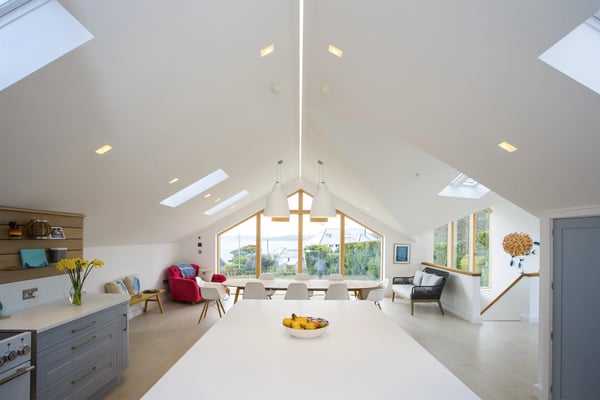 3. Scandinavian design
A popular trend in the UK, Scandinavian design focuses on simplicity whilst retaining warmth and a quirky, unique sense of character. Efficient and highly functional, this design trend makes sure that every inch of space works for you. Natural construction materials are a key part of creating a natural, cosy feel for this home style.
4. Industrial reclamation
Reclaimed wood, reworked iron and repurposed objects are just some of the striking design features in industrial architecture. Don't be afraid to indulge in your home's history, stripping back beams, exposing brickwork and revealing natural features for prominent display.
Get modern inspiration for your next project
Are you looking for a complete home revelation, or simply want to refresh your interior? Are you looking to get more from your space, or unlock the possibilities of your current living area? Whatever your project, Marraum are here to help. See some of the contemporary projects we've completed, and find out more about the unique ways we've breathed life into tired spaces, here.
Leading architects in Cornwall
We're proud to deliver trusted architectural services in Cornwall that combine functional knowledge and creative flair, finished with a stand-out craft. Our portfolio incorporates modern design concepts, planning applications, constructions tenders and more – helping clients create a space that fulfils its potential. Find out more about what we do, here.