Investing in an architect can improve the aesthetic and functionality of your project design, but are you also making the most of your specialist's expertise?
Turn your story into a vision
We believe that at the heart of every space is the people who use it. There's more to a project than just building an extension or renovation – it's about crating surroundings that meet your needs. Let your architect turn your story into a vision, creating the perfect property that will enhance your life and making sure that your space works harder for you.
Connect with local suppliers
Architects don't just help with the design and engineering stage of your project; they can also help during the construction phase of your build. Architects have access to a network of trusted suppliers and consultants who can bring your project to life. Your architect can assist with tenders for contractors, source quotes and ensure that you get the right people on board. Get support throughout your build, with regular site visits and reliable consultancy to ensure that your vision takes shape effectively.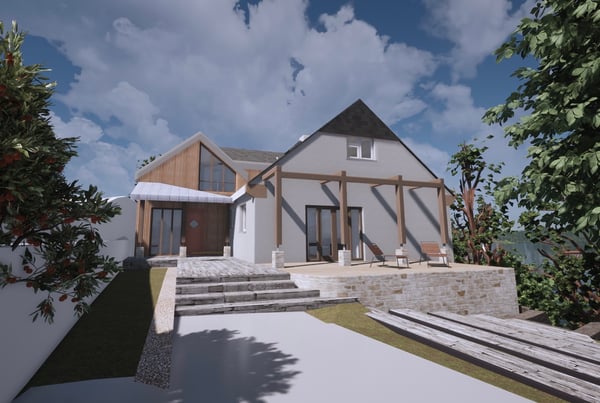 Get support with your planning application
Planning permission can be a stressful stage of a build – and for many homeowners it can prove a sticking point in their project plans. Get the best chance of success by involving your architect with the planning application process. Not only can your architect provide detailed renderings and visualisations to strengthen your application but, with specialist knowledge and a relationship with the relevant authorities, architects can also reduce your waiting time by up to 50%.
Visualise your project with VR technology
Add an extra dynamic to your project. Virtual reality technology allows you to step in and explore your architectural design in 3D surroundings. Take your designs off the page and experience an immersive landscape first-hand. Not only does a VR architect's services generate excitement around your new project, it also allows you to spot details or issues which may be missed on 2D plans – saving you money down the line during the construction phase.
Find out more about
Marraum
Architects in Cornwall
Do you want to partner with an architect that can deliver more? At Marraum, our team are proud to help you bring your ideas to life with inspired designs and expert consultancy. Get support every step of the way with your project, and benefit from working with a team who are passionate about making your space fulfil its potential. Get in touch today to find out more.