We're delighted to announce that Marraum has renewed its membership with Cornwall Wildlife Trust for another year. We're looking forward to our continued partnership with this fantastic charity, supporting them directly with their Seaquest Southwest project.
When choosing a charity to partner with, we wanted to work with an initiative that champions the natural environment. Our approach to architecture has always been a mindful one that takes into account our work's sustainability, and the whole Marraum team is passionate about the Cornish marine environment. This made the partnership with the Trust an exciting opportunity.
What is Seaquest Southwest?
The aim of this marine recording project is to collect vital data on marine wildlife, to better understand and conserve the species that surround our home.
Seaquest Southwest is also citizen-facing; one of our favourite parts about the project is its dedication to educating and engaging people with the marine environment with public event, surveys and activities. If you're interested in the project, you can learn more about Seaquest Southwest here.
How Marraum is contributing to the project
As a business, we're donating a percentage of our annual sales turnover to the project. Our team is also involved in many of the initiatives and events Seaquest Southwest offers. During our first year with Cornwall Wildlife Trust, we were trained to undertake effort-based sea watch surveys, bringing us closer to the marine environment we love.
Team snorkelling trip
Most recently, the team went on a snorkelling trip to Swanpool Beach in Falmouth. Accompanied by Abby, marine conservation officer at CWT, as well as Lauren and Katie, also from the trust, we had the opportunity to observe some of Cornwall's marine life up close.
It was a truly special experience. A few of the team are already experienced snorkellers but some of us had never done it before. Regardless, the trip gave us all the opportunity to observe the aquatic life, surrounded by fish and beautiful seaweed species. It was a magical, unforgettable experience.
The rest of the day was spent on the beach, taking in the gorgeous weather with some paddleboarding at Gylly beach and ending with a beach barbecue.
Days like this fill us with appreciation for the gorgeous natural world we're fortunate to enjoy here in Cornwall, as well as celebrating our fantastic team, helping us to return to the office feeling refreshed and inspired!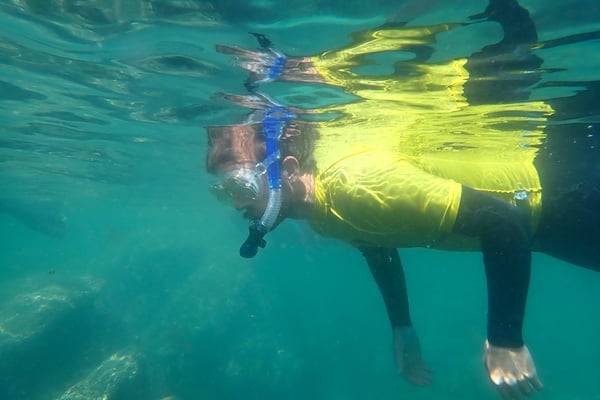 Drawing on the natural world for architectural inspiration
At Marraum, a sustainable approach to architecture informs the work we do. We draw inspiration from the natural world and are dedicated to preserving it as best we can.
To discover what this looks like practically, you can see some of the projects we've brought to life, where you can get a sense for how we create spaces that harmonise with their surroundings.
Daisy Sawle
Start your adventure with a different kind of architect practice in Cornwall. View blogs by our Director Daisy Sawle and get inspired today.