Building regulations and planning permission can have a huge impact on the permitted developments for your home – but they can also present an opportunity to create meaningful, impactful design solutions. Make sure that you make the most of your building's natural features and setting, with creative design that turns its own restrictions into inspiring ideas.
Types of building restrictions
There are a number of building restrictions that might affect your property, including:
Listed building

Area of Outstanding Natural Beauty

Building regulations

Planning permission



Finding design opportunities in project challenges
At Marraum, we work with a range of unique properties. See some of the building restrictions our team have faced, and the unique solutions we've created to meet them.
Respecting a grade II listed building
The Marraum team faced a huge challenge in the conversion of a bungalow, within the grounds of a grade II listed building, which had reached the end of its life. Based on a small plot of land within an Area of Outstanding Natural Beauty (AONB), our design had to lean on local vernacular and building materials to craft a dwelling that reflected the landscape around. This meant we produced a thoughtful concept that utilised the site's topography of surrounding trees and natural features – a truly stunning result! See more about the project, here.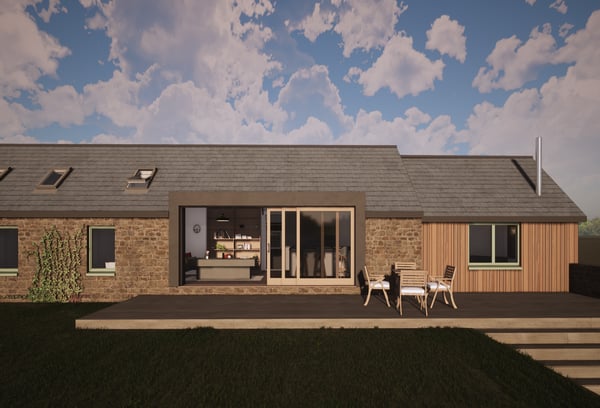 Adapting and bending briefs
For a bungalow redesign, our team had to get creative to deliver the wow factor. Initially planning to raise the roof of the single-storey bungalow in Swanpool, we had to adapt when we learnt that planning restrictions meant we couldn't go up a floor. Instead, our team took a step back and changed approach, combining small rooms into a larger living space, increasing the pitch of the roof and removing interior ceilings. The result was a stand-out property that had beautiful finishes and the feel of a much larger space. Learn more about the project, here.
Complimenting the local landscape
An authentic cottage renovation in St Just in Roseland, Cornwall was a challenging project for the team. As the site was visible from a listed building and located within an AONB, we had to take stock of the original building methods used and respect these, whilst ensuring our design complimented the local landscape and used natural materials. Find out more about the project, here.
Discuss your project with our architects in Cornwall today
At Marraum, our team love creating a design that takes advantage of showcasing a building's natural features. No matter what your project size or challenges, we'd love to hear more about your property and the space you want to create. Get in touch today to find out more.