A home build kit is a low-cost option for many future homeowners and individuals foraying into the world of development. With high quality, pre-fabricated parts and clean design solutions, home build kits can make beautiful homes that are so much more than just a cookie-cut solution. Find out more about home build kits, and how an architect can help bring them to life, here.
What is a home build kit?
A home build kit or 'kit house' is a pre-designed and pre-manufactured construction kit that gives you all the material needed to self-build a home. Kit homes are known for being low-cost, quick and easy to construct, making them a popular choice for self-build homes.
How can an architect enhance your home build kit?
One of the disadvantages of a home build kit is the lack of flexibility that they give the user in design – which is where an architect can help. Our team can make alterations to the plans of your home and then liaise with the kit home manufacturers to get these changes implemented in your kit.
A bespoke design means you can create a home that is completely tailored to your taste and lifestyle. Make sure that every inch of your space works harder for you and your family with an architect-inspired home.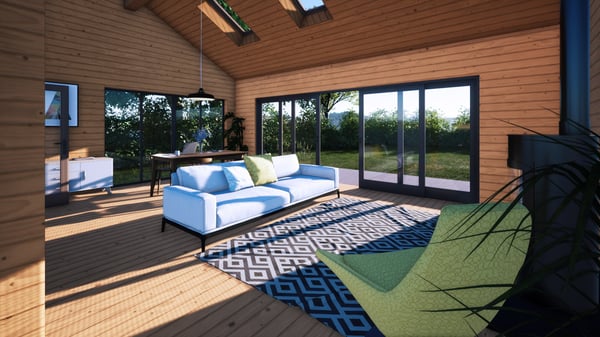 Our team can also offer consultancy to ensure that the kit home you're purchasing will work for you. Sometimes it's not easy to see the bigger picture, and an architect will help you make sure your kit home meets your unique requirements – and tweak your home kit designs if not. Many home kit manufacturers are happy to receive instructions from architects with amends to designs, and can create the pieces you need to adapt to these.
Reviewing the initial plans of a kit-build home
Our team have experience adapting home build kits to suit individuals. One of our recent projects was for Sarah and Trevor. They had bought a plot of land in Bolingey where they planned to build their own home, and asked us to review the initial plans. Our team quickly realised that the layout of the designs hadn't been considered for a wheel-chair user.
We set about redesigning the space to ensure that it worked for Sarah's wheelchair, and also took the opportunity to make sure that the space made the most of its surroundings. Creating a VR walkthrough experience allowed us to test that the new space worked for Sarah and Trevor, before the couple then built the home themselves. Find out more about the project, here.
Talk to us about your home build project today
Do you have a kit-build or self-build project you want to talk to us about? Get in touch and find out how we can bring more to your space today.