A renovation can transform your home, breathing life into a tired space and bringing a whole new living experience to your family. From designing creative areas, to delivering functional work spaces, an architect can make sure you get the most from your renovation. See some of our top reasons to invest in a professional architect for your home renovation:
1. Make your space work harder for you
A renovation is all about creating a new, reimagined and comfortable environment for your family. Open up living areas, create airy, spacious environments and find innovative ways of redesigning your space with the help of a professional eye. An architect can find creative ways to make your renovated space work harder for you.
2. Utilise the natural features of your home
Restore your home to its original glory by revealing its authentic features. Period fireplaces, exposed timber beams and period panelling are just a few of the ways your renovation can utilise the natural features of your building and create a unique home filled with character.
3. Provide inspiration
Do you want to create a space that stands out? The creative flair of an architect can bring so much more to your renovation, challenging or unpicking your brief, bringing new ideas, unlocking the space and finding hidden opportunities. Get inspired with a range of beautiful designs, here.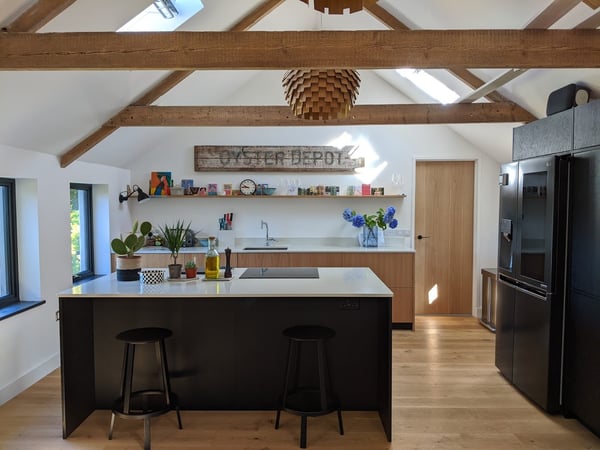 4. Maximise your value
The cost of an architect can be easily offset by the value they bring to your space. By unlocking your spaces potential, their expertise can more than pay for itself. An architect can also bring powerful tools to your project, like the use of VR – allowing you to take your designs off the page and enjoy an immersive experience. A VR walkthrough or flyover will allow you to step into the finished renovation, ensuring every detail is correct before you go ahead with construction. A detailed walkthrough will prevent any issues when it comes to construction, meaning you get the perfect finished renovation for your home.
5. Rest assured with professional project management
Keep your project to budget and schedule with the help of a professional project manager. A home renovation can be a stressful undertaking, particularly when it involves something so close to your heart, which is why the help of an outside party can be an effective way to ensure everything runs smoothly. A project manager will coordinate with contractors and deal with any issues that arise before they impact on your build.
Speak to our architects in Cornwall today
At Marraum, we bring can more to your project, making your space so much more than a simple renovation. Create a joyful, contemporary home that fulfils its potential. Get in touch today to find out more.
Photos by Andrew Wright, building work by Daniel McMahon/Scarph and Spirit