The construction industry has remained relatively stable over the past few years despite the global economic setback caused by the pandemic. There were certain sectors that saw rapid growth, such as residential construction, while other non-residential applications continue on a slow decline.
With the trends in previous years, it's perfectly understandable how the year ahead might cause uncertainties for contractors, construction company owners, and laborers. To help alleviate those worries and prepare for what may come, here are the top four construction trends to look out for in 2022.
1. Increased labour efficiency
While a lot of companies and contractors might be scrambling for opportunities in the recovering economy, one great deal breaker might have something to do with technology. With the previous restrictions on in-person gatherings and travels necessitating remote working, a lot of jobs have found solace in the use of apps and automated solutions.
There are construction apps for builders that make it easier to perform various tasks, from spirit levels to concrete guides that help your carpenters and masons work more accurately and get the data they need–all from their smartphones. For example, the Pocket Handyman app combines a spirit level, a flashlight, and a protractor all in one. There are similarly handy apps for electrical, HVAC, and even interior designing.
2. Artificial intelligence solutions
Like any other industry, the construction business is seeing increased use of new AI tools for construction that speed up processes. Whereas manual laborers now have convenient apps on their phones, planners and designers now have access to various solutions that make their jobs easier. Here are some AI-based applications expected to grow this year:
Augmented reality and artificial intelligence are closely interrelated technologies, with one being usually used to develop the other. In the context of building construction, AR technology has revolutionised presentations and building walkthroughs. Widely used in 3D visualisation of projects, AR-based tools allow builders to present the project with respect to the actual surrounding environment. It can also be used to automate lot and location identification and measurement. An industry report projects rapid growth for the AR industry in general, with a compounded annual growth rate of about 42.9 percent until 2030.
Building Information Modeling (BIM)
Drafting buildings are now usually done with the help of computers, and AI technology has only improved its capabilities. Computer-aided drafting (CAD) solutions now include tools that make it easier to draw from existing parts libraries, generate their own custom parts, and even make simulations based on real-world challenges such as earthquakes and wind-loads–factors that are now integral for high-rise buildings.
Artificial intelligence makes it easier for these pieces of software to make complex calculations, which inform the design and construction decisions of builders moving forward.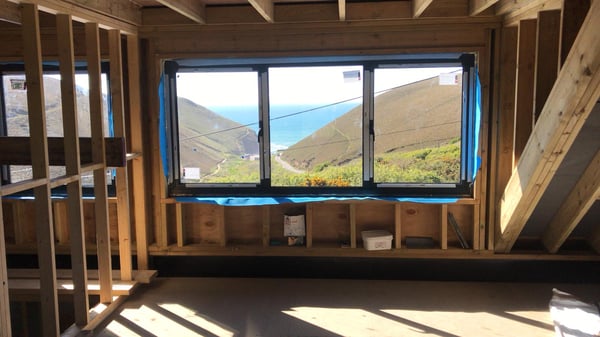 3. Increase in prefabricated materials
As 3D printing is becoming more accessible, thanks to new technologies that make it cheaper, it is also starting to find more applications in the construction industry. Coinciding with the global logistical problems causing delayed or canceled materials shipments, most companies are now looking for alternative materials and ways to source them more sustainably. For starters, 3D printers create materials such as beams and walls exactly according to specifications, saving time and minimizing waste materials.
Another reason for this trend is that most BIM solutions allow plans and designs to be directly exported to industrial-grade concrete 3D printers. Essentially, it now allows construction companies to "print out" a three-dimensional, solid-built building. This is already seeing growth in the residential construction sector and is expected to further grow as this technology is proving to be a more cost-effective and time-efficient alternative.
4. Continuing labor shortage
It might come across as surprising for some, but the proliferation of technology doesn't necessarily mean the replacement of human workers. If anything, the industry is now in dire need of different professionals–from laborers to designers. Simply put, the rate at which workers retire out of the industry is much greater than the young professionals entering construction.
It is also important to note that the pandemic has partially aggravated the long-standing labor shortage in construction. With the temporary closure of schools due to travel and in-person restrictions, trade schools and vocational training–educational programs that require hands-on learning experiences–were almost entirely off the table compared to other career prospects that can be taught in remote settings
The HBI Construction Labor Market Report disclosed last year that the industry needs about 2.2 million skilled workers in order to get back on track. This shortage of workers, which is expected to continue well into this year, has been limiting the industry growth, housing inventory, and overall affordability. This projection was also reflected in the wildly fluctuating job openings in the industry, hitting almost half a million unfulfilled positions in October last year.
Final Thoughts
With the ever-changing state of the construction industry, construction companies can become more competitive by adopting the construction technology trends, and residential buyers have more options to choose from when buying their new home or planning their next home project.
Curious about how to choose the right architect? Check out the key takeaways you should be looking for here.