Choosing the right architect is the all-important first step towards crafting your new home. When it comes to making the decision, your shortlist of architects can be shortened by exploring their portfolios to get a deeper understanding of how they work.
This process is vital, as not only does it show off a given architect's style and the results they've achieved for clients – it also reveals other aspects of how they work including their design process, personality, approach to client interactions and the type of projects they're likely to take on.
5 points to consider from your architect's portfolio
An architect's portfolio of work should be one of your first ports of call when assessing the viability of a potential partnership with them. Here are 5 things to focus on when going through an architect's portfolio:
1. Get to grips with their unique design process
Project reports can provide valuable insight into an architect's process. With each entry laying out the brief, goals, challenges and results of the project, you can learn a lot about how they go about designing your home – and how they'd work towards achieving your brief.
How do they communicate with clients? How are plans presented? Do they embrace modern design methods like drawing in 3D and presenting to clients in VR? These questions can all be answered by reading through some of the case studies in your architect's portfolio.
2. What kind of projects do they regularly take on?
This is another important point to consider. No matter how much you might love an architect's commercial projects, they won't be suitable for a home renovation if this isn't the sort of job they regularly take on.
You'll quickly get a feel for the work they undertake by flipping through their completed projects, so be sure to take note of designs they've done in the past that fall in the same ballpark as your requirements, as this will help you understand how they might achieve similar results for you.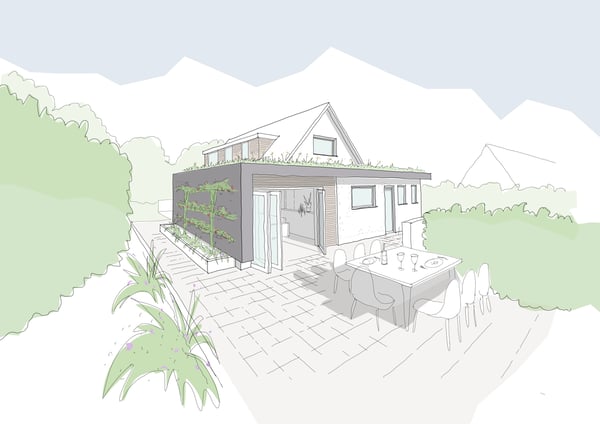 3. Explore their style – is it what you want for your home?
Your architect's portfolio is also the best place to immerse yourself in their style for the first time. The best partnerships are formed when a client's brief and architect's style combine, so this is a great initial indication of if you'll work well together. Ensure that their signature flair is what your design needs – and that you're happy to get on board with how they work.
4. Partnerships and connections that you can benefit from
Working with an architect is about more than just the design phase. Your architect will also be responsible for acquiring planning permission for your build and introducing you to contractors and builders to bring your new space to life.
Their portfolio of work is a great place to find stories of these partnerships working well, so take note of who they work with and consider how you'd benefit from those connections as well.
5. How do they respond to design challenges?
How an architect responds to a challenge is a priceless indicator of what they'll be like to work with. Are they industrious enough to tackle hitches with an outside-the-box approach? When the going gets tough, do they double down and carve a way forward? If the answer to those questions is yes, it's a real positive sign that you're looking in the right places for your architect.
Whether it's working around tricky environmental conditions or making the most of a small property, be sure to take note of architects that have a track record for overcoming challenges and even using them to their advantage.
Explore Marraum Architect's portfolio of work
We've had the pleasure of working on some inspirational projects in Cornwall, many of which you can find out about in our collection of projects.
Discover our work today and don't hesitate to contact us if you'd like to discuss a project of your own.