While asking yourself the question, do I need an architect?, the subject of costs will inevitably come up.
At face value, spending a sizeable amount of money to bring an architect on board can be a daunting investment. However, the benefits of investing in professional architecture can pay dividends down the line.
Our blog has already covered 5 reasons for your business to invest in architects, and this article will follow along similar lines, exploring the reasons why investing in a professional architect is worthwhile.
You can capitalise on your architect's connections
Experienced architects know the right people.
From helping planning applications along to providing a shortlist of builders and contractors best-suited to bringing your new space to life, your architect can leverage their connections to mitigate hiccups throughout your project's lifecycle.
Your architect will handle the planning application
Putting a planning application together can be stressful and a significant time investment if you're not immediately familiar with the process. With an architect, the entire application is handled for you. The plans will also be presented in such a way that enhances the likelihood of approval, thanks to the vast experience architects have with their local committees on getting applications over the line.
Unlocking your space's potential
Architects can add a great deal of value to your space, helping you visualise what you need it to achieve and extra features you may not have considered otherwise.
Working with experienced architects, you can lean on their insights on all kinds of areas that you likely would not have thought about, such as how the lighting of a room will change throughout the day and year and throwing you those unexpected curve balls to really get you thinking about how you want to live in the space.
The above reasons highlight why it's worth waiting for the right architect – namely, your project will encounter the least friction possible as it moves towards completion.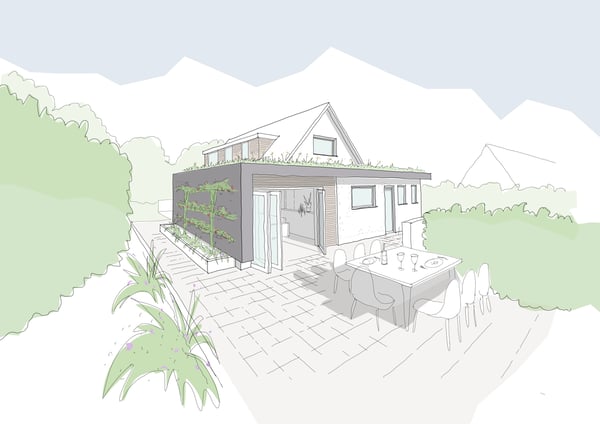 Spending now can save money down the line
Getting it right the first time with your architect will save you the hassle of redrafting plans down the line – ultimately helping you make the most of your budget. Not only does an architect excel at designing homes; they're also effective communicators and mediators. This will enhance relations with all the parties you'll come into contact with during your home's evolution (including local committees when applying for planning permission).
Furthermore, if there is any disunity in the understanding between yourself and your contractors, things can grind to a frustrating halt. Working with the right architect can mitigate these unforeseen twists and turns during the construction phase.
Your architect can act as the middle ground between your expectations and those of your builders, ensuring there's no miscommunication or misunderstanding. With professionally designed and comprehensively informative architectural plans, the likelihood of an issue appearing during development is largely avoided.
Plan for the future of your home with thoughtful, effective design
An architect can not only enhance your space in the here and now; their work is an investment in the future for you and your family.
Enhancing your home is all about adding functionality, value, sustainability and an aesthetic that harmonises with your vision. A thoughtfully designed home is more than just an attractive space; it synchronises with the surrounding environment in a way that adds worth to both your standard of living and – in a financial sense – to the value of your house.
Begin a new journey with Marraum – a leading Cornwall architect
At Marraum, we're passionate about designing spaces that give our clients the homes they deserve. It's about so much more than attractive designs; our process looks at how to give you the space that works best for you – and we're passionate about maximising your return on investment.
Please contact us today if you'd like to find out more about the cost of our architectural services. You can also browse some of our projects to see the successes we've facilitated for past clients.