The truth is, there's nothing tying you down to employing an architect to kickstart your construction project – however, their expertise can be invaluable, particularly when it comes to rendering designs in ways you may not be able to find anywhere else.

The question of whether one is right for you personally, though, is one worth going into – particularly in light of the fact they're not an insubstantial investment.
In this article, we'll go over some of the important questions to ask yourself when deciding if employing an architect is the right route for you.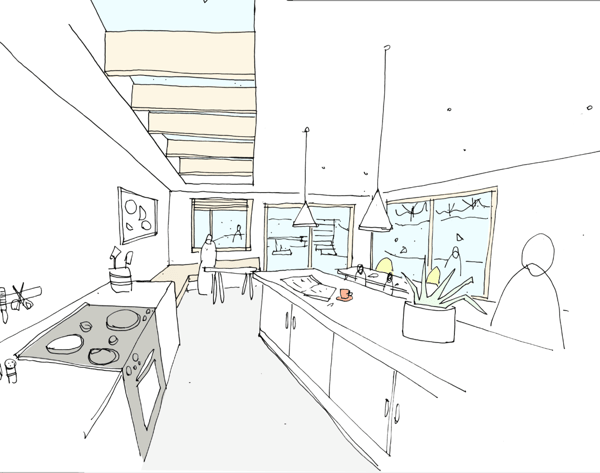 What do I want from my building project?
Even before you ask yourself if you need an architect, spend some time outlining your brief prior to contacting any design professional. This will help establish the route your project should go down. Headlines for your brief may include:
What do I want to achieve from the project? Consider things like space, light, a sustainable approach, whether it's an extension, alteration or new build.
What is my total budget for undertaking these works? This is important – and don't forget to plan for unforeseen costs!
Which consultants will be required? Be it a structural engineer, topographical surveyor, asbestos surveyor, highways consultant, arboricultural specialist, or wildlife consultant… This is important to account for to assist you in budgeting and developing a timeframe for your project.
When would I like the building works to take place? Will it be when the kids are at school? Avoiding a winter build? While living in the house or will we need to live elsewhere?
Do I know the history of the building? Is it a conservation area, listed building, mundic or positioned near an old mine?
Who is likely to carry out the build? Consider whether it's a known builder, a self-build or work carried out by a family friend, etc.
What statutory regulations do I need to consider? Planning, building regulations, party wall…

What role does an architect play?
Architects are highly trained and generally great at seeing the grand scheme of a project, bringing with them an additional flair for creativity to help you achieve a fantastic design. They can help you to see your vision more clearly, and making it a reality is their job role.
With an architect, the emotional and social implications of design are also taken into consideration along with the practical and monetary aspects. This holistic view of each project comes with the training (architect qualifications usually take a minimum of 7 years to acquire) and the codes of conduct associated with the boards they are registered with (ARB, RIBA).
Although other consultants and contractors can bring a lot to your design process, there is no other professional trade in the construction world that has the rigorous educational process to get them into their qualified position.
The added value, and often security, that an architect will bring to your project should not be overlooked.
If you're looking for a design consultant that offers 'full architectural services', which most do, then an architect is your best bet. Architects have to prove that they can undertake the following to be able to use the protected title and therefore be registered with the Architects Registration Board (ARB):
concept design
planning process
building regulation and consultation drawings and submission
tendering and procurement
contract administration
Who is the right architect for me?
Once you've defined your brief and decided to move forward and take on an architect, you'll then need to seek the right one to fit you and your project.
There are around 40,000 architects registered in the UK — and you certainly don't want to be calling each one to find out if they're right for your project. So, starting to narrow down your selection is key. We'd recommend carrying out thorough research on your architect and design team. This should cover a number of key questions:
Do they have good references?
Are they enjoyable to work with?
Have they undertaken similar projects?
Do they work in your location?
Can they carry out a full architectural service?
It's important that you fully understand your architect and that they understand you. Most projects, even the smallest of alterations, can take upwards of a year to undertake from initial brief meeting to signing off the finished works. So, naturally, you'll need to get on.
Easy, open and regular communication with your architect is key. It will help accelerate your project from a brief into a physical project as well as make it a joyful process as you see your vision come to fruition. Leaning on your architect's inherent skills can transform the brief you've already created into something you may never have comprehended.
Ultimately, this will deliver a design that you take pleasure in, that gives you the additional comfort and relaxation space you're craving and that you're proud to invite your friends into.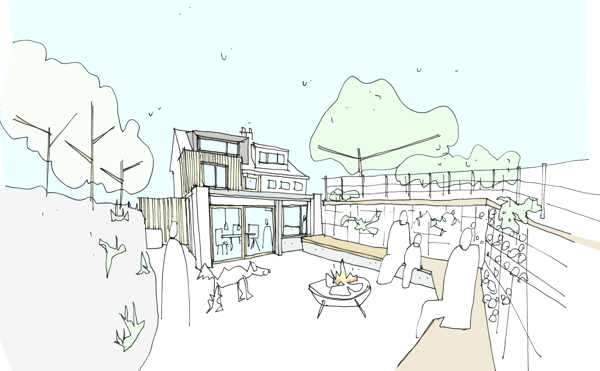 What to expect from working with an architect
Your architect plays an important role in the entire process of your design project. Additionally, unless the architect is a sole practitioner, they'll be part of a wider design team.
Architects' practices are often made up of a variety of professionals who all bring something different to your project. Although you may be dealing predominantly with the architect, your project will be worked on by technologists, assistants and trainees.
The age-old saying, "two heads are better than one", is definitely true when looking at a design project. This collaborative working in an architect's office brings you the background and training of more than one individual, bringing focus to all areas of the project and in turn allowing for a smooth journey. Working with an architects' practice that has a mix of architects and architectural technologists allows the project to be seen from a design-lead background as well as a technical one.
Your architect will be your main point of contact and they should have an intrinsic understanding of the works presented by their team. They should be offering you a sense of security with their background and knowledge of running projects similar to yours.
You should expect your architect to be up-to-date with design limitations, construction practice and planning policy. If they're not, they should be able to find out using their team and present this information back to you. This is where finding the right combination of team members may end up putting an initial premium on the appointment of these professionals. However, the knowledge that is brought with it will see savings throughout the project.
Get in touch with Marraum Architects in Cornwall to bring your project to life
If this all sounds like something you're interested in exploring further, we'd love to have a chat with you. Our architects' team is passionate about delivering great results, with a process centred around offering clients a memorable experience.

Contact us today to find out more about our services and how we can bring your vision for your space to life.

See these related blog articles for more helpful info:
THE POSSIBILITIES THAT VR CAN BRING TO YOUR HOME RENOVATION
5 CONSIDERATIONS WHEN PLANNING YOUR LOFT CONVERSION
5 CONSIDERATIONS BEFORE TRANSFORMING AN OLD PROPERTY