Virtual Reality has reengineered the way architects engage with you as a client. No longer are complex design diagrams all you can see of your redesigned space before it's built. Now, with the power of VR, you can walk around your new home before a single brick has been laid.
VR technology helps bring the work of our team even closer to clients and their vision than ever, providing an unrivalled level of detail and accessibility. When bringing your home renovation to life, a VR architect can take you on a virtual tour to ensure the space meets your requirements.
How VR can inspire and excite your family
Marraum uses Virtual Reality to provide a functional and inspiring blueprint of your future home in more detail than ever before. With VR, you step into the architectural drawings and become immersed in the finished result – even before the job has begun.
With the architectural design process of the past, it was sometimes difficult for clients to fully visualise their space before actually building it. Now, the proposal for your home renovation provides all the assurance you need – delivering a fully realised space via our VR headset. When you put on the headset in our office, you and your family can walk around your virtual home.
See how we used VR to breathe new life into Quarry House in Flushing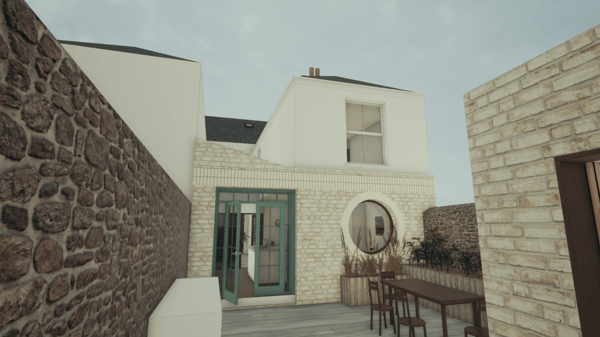 What's possible with VR architecture?
See the evening sun light up your living space. Gaze out at the view through the kitchen window. This is the power that VR brings to contemporary architecture. From the comfort of our waterside office in Penryn, you'll be able to explore a full virtual representation of your new home.
A VR architectural design is not only great for revealing our response to your brief; it's also the ideal space for receiving feedback from you on any changes you'd like to see. You'll be able to see a full virtual representation of the finished product as it stands, allowing you to offer any changes and further implementations to be made.
This is how we bring your vision to life: with technology that allows you to not just see a space before it's a reality, but feel it too.
See what our clients are saying about their experience with VR at Marraum, or find out more about the Marraum process.
Create the perfect living space with a VR architect in Cornwall
Marraum was the first architectural firm in Cornwall to offer Virtual Reality technology as standard. This leap in technology lets you visualise and inform every step of the design process and bring your space's story to life.
Contact us today to book a consultation and learn more about how we can help you achieve your dream space.