In the typical modern home, there are often many missed opportunities for using space more effectively. Regardless of the number of available rooms, there's always the opportunity to make your space work harder for you.
Every piece of available space has value beyond its traditional usage. Thinking architecturally about every room will help you to create your own flexible spaces in your home, whether that's a 'foldaway' home office or a cleverly repurposed play area for your kids.
In this article, we offer some tips on creating your own flexible spaces at home.
Rethink your pre-defined rooms
The first step is to start rethinking the function of pre-defined spaces. For example, if you have a guest bedroom used only a few weekends a year, that's valuable space that could be made use of in other ways.
If you have any rooms like this that are used less because of their perceived function, it's time to think outside the box. An unused spare bedroom could be a gym, a cinema room or home office – which these days is something of a norm for those who can work from home.
When buying a house, rooms tend to be advertised as 'bedrooms', but in reality, they're blank canvases. Think about how your existing lifestyle can be enhanced by reassigning each room's function to enrich your living space.
As an example, our 'Coastal Tardis' project involved transforming a costal property into a spacious, flexible home that could adapt to the changing needs of its occupants. By flipping the main spaces and using bespoke storage solutions that could be adapted to different uses, such as incorporating shoe drawers built into the stairs and a secret hideaway office, we were able to unlock the space and give the family room to live and work.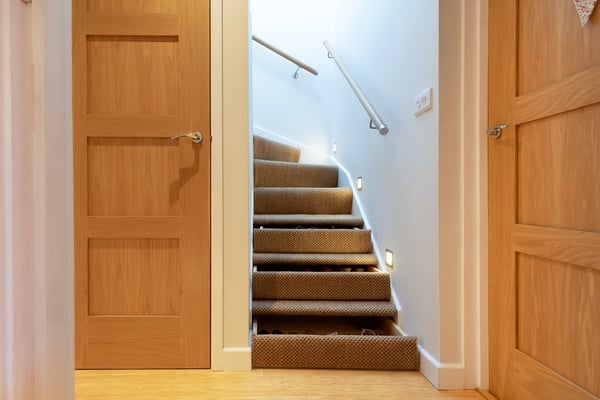 Consider transitioning into a central 'open plan' space
Another way to create flexible spaces is through open plan living. If any of your main rooms have unused space – a free corner in your dining room, for example – this can effectively serve as a space for that previously mentioned home office. This reserves the function of the existing space, but adds another layer to help you ensure every corner of each room is designed to fit your lifestyle.
Of course, free space remains important, so don't get too hung up on filling every area with something functional. Read our blog on how to create more space in your building for more information.
It doesn't all have to be about knocking down walls to create more space, but this can be a worthwhile avenue if you're considering more of a drastic change. In this instance, working with an experienced architect is an option.
Invest in bespoke furniture
If a major renovation is out of your budget but you're still looking for an interior refresh, bespoke furniture is an excellent option. With custom furniture that's tailormade to your space and needs, you can create effective multifunctional spaces without breaking the bank.
For example, this might involve a foldaway desk for a quickly accessible but unobtrusive workspace, or a perfectly fitted sofa bed, with storage, that can transform into a guest bed when needed.
Don't be afraid to experiment
When it comes to creating flexible spaces, don't be afraid to experiment to find what works for you. It's about finding a balance between harnessing your available space and ensuring it remains functional for your lifestyle, so don't be put off if it takes trial and error to find that perfect layout.
Integrate flexible spaces in your home with Marraum Architects
If you're struggling to think outside the box, bringing an architect on board can be really beneficial.
Based in Cornwall, UK, we help our clients to get more from their homes with creative design options. Get in touch today to chat about your project with our team, or explore our other projects for inspiration.