A major obstacle for building work in 2022 has been the rising costs of materials and labour. Building materials have seen a sharp increase since 2020. According to the UK Department for Business, Energy and Industrial Strategy, the average construction materials price index has risen abruptly, from 112.7 to 153.3 for new builds (source: Statista).
Steel has seen the sharpest rise, but the price increases have been universal for all materials according to another study. This will naturally have an impact on all residential projects.
These facts have prompted the question: How can we go about reducing building costs? In a time of financial uncertainty, this is a necessity. Fortunately, there are ways your architect can help.
How to reduce building costs on your project
Architects can assist with minimising the costs associated with a new project. Through a sustainable and creative approach to your brief, here's how working with an architect can ensure your project gets off the ground despite rising costs.
Discuss every detail with your architect as early as possible
The old cliché of 'prevention is the best cure' very much applies here. As early as possible, discuss your expectations with your architect and build a brief together that incorporates your desires for your home, as well as features and practical details that minimise material and labour costs.
During this stage, communication is essential. Communicating your ideas to your architect in as much detail as possible will allow them to provide you with suggestions and opportunities for scaling the brief to meet your budget.
Of course, this goes both ways; if your architect isn't being realistic and frank about expected costs, it may be time to consider exploring other firms!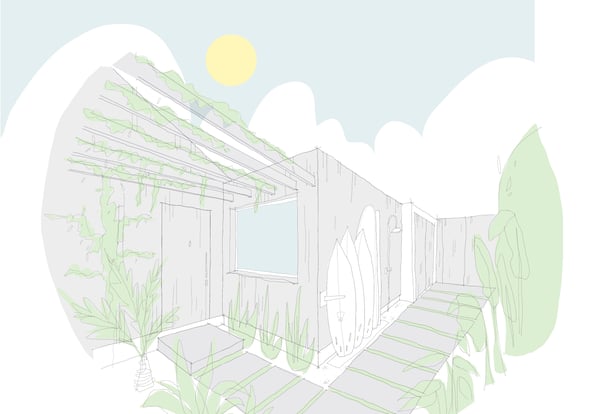 Embrace sustainable architecture
As mentioned above, your architect can and should look for opportunities to scale your brief appropriately. By giving as many opportunities to scale back on building work as possible, you'll not only save costs but also embrace a sustainable architectural approach. The less you build, the more sustainable your home – and less can often be more with creative uses of space.
Using fewer building materials and taking up less space are 2 key features of the sustainable approach, and the upshot of using fewer materials is a lessening of costs in the long run.
Virtual reality: a cost-effective, pioneering architectural method
If you're using an architect for your building project, partnering with one that knows how to save you money in the long-run will also prove instrumental.
The time and money spent redrawing plans can be costly and protracted. What's more, 2D plans can also be deceiving, which is why many architects now create design in 3D to ensure nothing is left to the imagination. We're one of them.
We present 3D plans to our clients through virtual reality, allowing for straightforward feedback (which in turn means minimal, if any, redrafts). Apart from being transformative from a design perspective, VR architecture is also cost-effective in the long run, saving you money on redrafts and potential unforeseen hiccups during the build phase.
Marraum uses virtual reality as standard across all our projects, helping our clients get the most out of their design while ensuring the most sustainable process possible to reduce building costs.
Discuss your options with an architect today
If you're looking for an architect in Cornwall, we'd love to speak with you. Contact us today to discuss your project and find out more about how we can help reduce building costs during this challenging time.