So, it's the new year and you've decided to extend your space or build a new home? Great! Now it's time to sit down and consider what you want from your project. See some of our top tips below for planning for design architecture success today:
Things to consider when planning your architectural project
First of all, take a good look at your space or site as it stands and consider its strengths as well as any potential constraints. Do you need to adjust the angles to make the most of any views, for instance? Or consider any rules around things like listed building status or a conservation or heritage area? (Don't worry if you don't know about these details but make sure you take advice on them at some point before you begin.)
Next, sit down and make some notes about:
how you currently use the space
how you would like to improve the way you use the space in future
who else uses the space
things you'd like to see in the space (eg. more room in kitchen, bi-fold doors, more light, space for pets, ensuite bathroom etc.)
any ideas you have about the design aesthetic (eg. Scandinavian, minimalist, traditional, industrial etc)
any thoughts you have on how the space might actually look
any environmental aspirations you have around materials or heating the space
It's also useful at this stage to list the things you must have, those you would like and anything you definitely don't want. These may change when you really start to drill down into what can be done within constraints such as budget and space, but having your ideal wish list there at the beginning is always useful. No two projects are the same, so find out more about our process and things to expect during your build, here.
Decide on your architectural project budget
Finally pin down your budget; because in the real world designs need to work within that in order to be realised successfully. Speaking to other people who will use the space is also useful as they may have ideas and input you haven't thought of.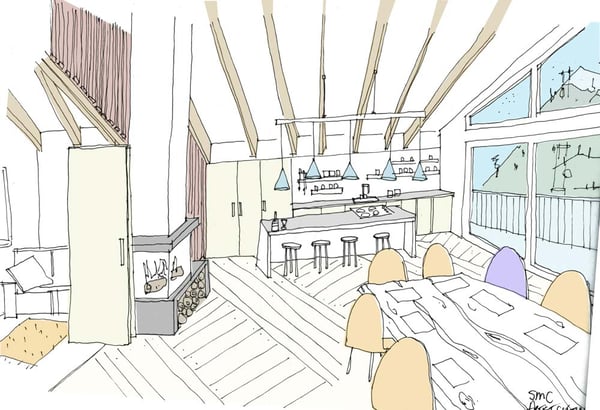 The next step is to think about whether you want to use the services of an architect to design your project. Check out our blog on this topic if you need help deciding.
Hiring your professional architect
If you do choose to employ an architect, then finding one who aligns with your vision, and that you get on with, is crucial. Take the time to meet with a few before deciding which one you think you'll work best with.
How do you choose? Start by considering whether you understand and like the design proposals? Do they make sense? Do they meet or even exceed your expectations? Do you have a clear picture of how the finished building will look? We use Virtual Reality to put clients directly into every project we design, because attention to detail at this point is crucial to achieving a successful final design.
Secondly do you feel you can communicate with your architect? You're going to be working with your chosen architect and their team for a while, so you need to feel like you can pick up the phone and ask any questions you have. Our job is to work with you, communicate and make sure the project runs smoothly. For more help choosing your professional architect then read our blog, here.
Getting started on your next architecture project
Working through these steps will help fill in the detail of what you need and how this might happen - giving you a firm foundation for a successful finished project. To find out more and get started on your next project, talk to our team today.
Need advice on the costs of hiring an architect? Our blog explains more…