You may be fortunate to be building in the middle of a large site away from boundaries and adjoining owner's building. However, this is frequently not the case.
Irrespective of whether you have a detached, semi-detached or terraced property, or even a flat, the Party Wall Act can affect your project.Most people who consider building a house or an extension will know, or soon realise, that neighbours have an important role to play in the process. As neighbours they'll experience some of the upheaval and inconvenience you experience without the joy of the finished article, so keeping them informed and sweet is essential.
Certain operations relating to your build may require you by law to serve them with a Party Wall Notice for works that affect a party wall. The period of notice is either one or two months depending upon the nature of the works.
The Party Wall Act does not affect any requirement for Planning Permission for work undertaken. Likewise, having Planning Permission does not negate any requirements under the Party Wall Act.
What is the Party Wall Act?
The Party Wall Act is enabling legislation. It provides a framework for preventing and resolving disputes in relation to party wall boundary walls and excavations near neighbouring buildings.
Adjoining owners can agree, or reach an agreement, on the way works are carried out and timescales etc. without a Party Wall notice. Where there is no agreement the Act provides for resolution of disputes.
The Act covers:
Various work that is going to be carried out directly to an existing party wall or structure.
New building at or astride the boundary line between properties.
Excavation within 3 or 6 metres of neighbouring building(s) or structure(s), depending on the depth of the hole or proposed foundations.
And what, exactly, is a party wall ?
The Act recognises two main types of party wall:
1) Party wall type A
A wall is a party wall if it stands astride the boundary of land to two or more owners.
Such a wall:
is part of one building (diagram 1)
separates two or more buildings (diagram 2)
consists of a "party fence wall" (diagram 3)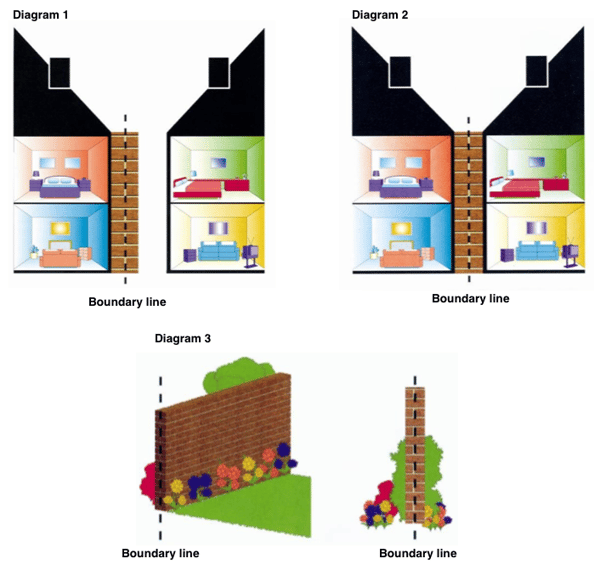 (Contains public sector information licensed under the Open Government Licence v3.0.)
2) Party wall type B
A wall is also a party wall if it stands wholly on one owner's land but is used by two (or more) owners to separate their buildings (diagram 4)
Only sections directly separating are party.
The expression party structure is also used. This is a wider term that could be a wall or floor or other structure separating buildings (diagram 5)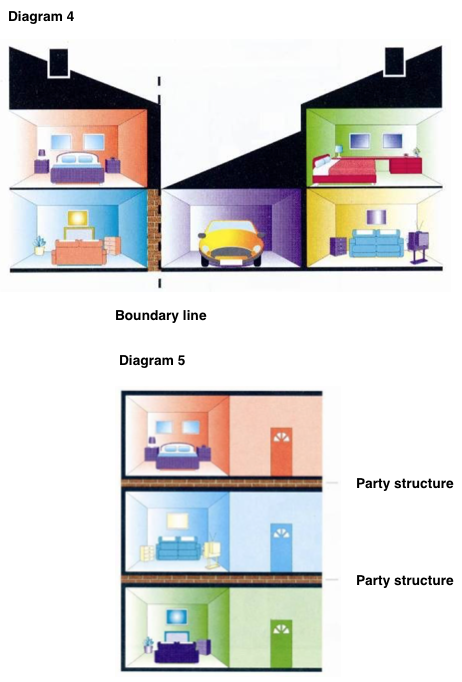 (Contains public sector information licensed under the Open Government Licence v3.0.)
What are your rights with party walls?
Having established the wall is a party wall, what can be done and what rights do you have other than those of common law? Typically you are allowed to:
cut into a wall for a beam bearing or to cut in a damp proof course.
raise the height or thickness of the wall or cut off projections
demolish and rebuild
underpin the whole thickness of the wall
insert flashings
However, if you intend to carry out these types of work you must inform all adjoining owners and no work must be carried out without doing so.
The Act contains no enforcement procedure but if you proceed without agreement the adjoining owner can seek a court injunction to stop the work. The adjoining owner cannot stop someone from exercising his or her rights but may be able to influence how and at what times work is done.
The building owner must provide temporary protection for the neighbours wall and make good on completion, or make payment for works to be done.
How do I obtain permission for works to a party wall?
Obtaining permission for party wall building works is a straightforward but not a simple process. You can manage the process yourself, but it is probably less stressful if you employ the services of a party wall surveyor.
Before party wall building works can start, the homeowner (Building Owner) needs a written Party Wall Agreement from all affected neighbours (Adjoining Owners). If the written agreement is not in place a surveyor should be appointed to prepare a Party Wall Award (the agreed document outlining how the works should progress). To start this process, the homeowner has to serve a Party Wall Notice on their neighbours, in writing, about the planned party wall works.
Informing adjacent owners
It is obviously best to discuss works with adjoining owners before giving notice. This way possible snags can be ironed out and consent given more readily. Interestingly there is no legal need to appoint a professional adviser, although it can be very beneficial.
The Act contains no official forms. Your notice must be dated and include:
the building owners name
address of building
full description (plans can be helpful)
when the works are proposed to start
Serving notice can be done for free by a homeowner, using appropriate forms readily downloadable, together with a letter of acknowledgement for your neighbour to complete and return.
If the adjoining owner dissents from the work at this point it may be advisable to employ the services of a party wall surveyor to prepare a Party Wall Award.
Two months' written notice must be given on building works that affect a party wall or boundary, or one month's notice for excavations. Once an agreement or award is in place the homeowner has up to a year to start work.
Common party wall mistakes
It's worth noting the pitfalls that can scupper you before work begins and leave your neighbours unhappy. Be aware that some building projects may need more than one type of notice served on each affected neighbour.
The most common mistakes are:
not providing adequate notice
not informing all affected neighbours. This includes the freeholder and anyone with a leasehold longer than a year. If you live in a terraced house, neighbours on both sides may be affected depending on the works. A homeowner living next to flats, may need to serve notice on a number of different people. Check property ownership via the Land Registry
not describing the proposed work precisely enough or not including sufficient information. Notices about excavations, for example, need to include full structural details.
using the wrong form of notice. The form of notice for excavating foundations is different from a party wall.
Avoid party wall mishaps with an experienced architect
At Marraum in Cornwall, we've worked on numerous architectural projects for clients, many of which involved party wall adjustments.
Give us a call to find out more about the Party Wall Act, or take a look at the UK government's explanatory booklet for more information.