Building a new home in Cornwall (or anywhere else in the UK countryside) presents an exciting opportunity. There's the chance to construct a space that complements its surroundings and enhances your way of life, and thoughtful architecture can even help conservation efforts.
However, building in the countryside is not without its challenges: UK law is strict about construction on natural and previously untouched land, so there are factors to be aware of before deciding on a countryside location for your home.
Building in the countryside – what are my options?
Below are a few courses of action that you and your architect can take before applying for planning permission on your countryside home.
Converting an agricultural building into a new home
One possibility for a new countryside home is converting old agricultural buildings into a dwelling. Barn conversions are a popular example of this.
The legislation allowing for this type of conversion is called Class Q. Originally passed in 2014, Class Q is a form of planning permission designed to mitigate the pressures of housing in rural areas, by allowing for previously agriculture-focused buildings to be converted into residential properties.
In order for a build to qualify for Class Q, the previous building must have been used for agriculture prior to March 2013. You can find out more about Class Q on the legislation.gov.uk website.
Does an old building already exist on the land?
Repurposing a building under Class Q is one of the most common ways of building a home in the countryside, but there is another option.
Typically, it's more likely that planning permission for a new build will be granted if there is already an old building within the boundaries of the land. This can be a building of any description; even a derelict building can qualify the land as suitable for hosting a new build, and this new build doesn't necessarily have to occupy the same space as the derelict building.
As was the case with one of our projects in central Cornwall, existing buildings on a site improve the chance for newbuilds to be approved in the vicinity.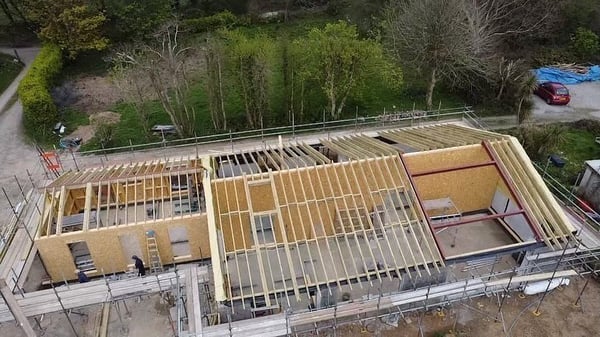 When can't I build in the countryside?
Of course, none of the above courses of action applies if there are other site restrictions that will prevent building permission from being granted.
As a rule, if a proposed building is deemed to induce visual harm or natural harm to the surrounding landscape, it may not be approved by the planning authority. This applies to any planned buildings situated in the following conditions:
An Area of Natural Beauty (AONB)
Conservation areas
National Parks
Strengthen your planning application for the best chance of success
Of course, this is all academic without a strong planning application.
There are some key ways to strengthen your planning application, one of which is to work with an experienced local architect who knows what it takes to attain approval in their area of operation.
Contact Marraum architects for professional advice on building in the countryside
If you have a project you'd like to discuss with us, please get in touch – we'd love to hear from you.